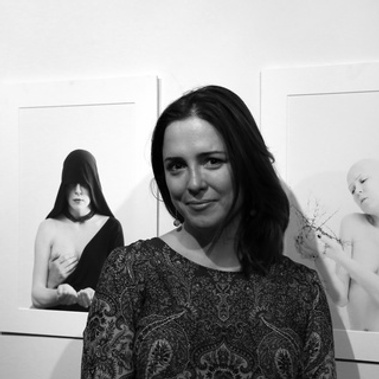 I am Poland based visual artist travelling and being exhibited worldwide. I have personal deep interest in human being and exploring it's beauty of complexity in my visual projects. I practice conceptual photography based on staged surreal scenes related to daily life.
Since I am also fascinated with reality and it's dramas, I have started directing author-orientated documentaries. As a director I have experience in making various reportages, shorts and corporate movies.
Aneta Novitzka (Nowicka born in Poland in 1980) went on along journey from photojournalism through narrative photography to visual art.

Her works had been exhibited in Berlin, Warsaw, Buenos Aires, New York, during Cannes Art Fair and Miami ArtSpectrum last year.
She won the First Prize in the category of Photography at Biennial of Contemporary Art 2016 in Argentina with her project ICONS. She received honorable mention during Versilia Biennale of Art in ITALY 2017 and several Honorable Mentions from International Photography Contest (IPA) and PX3 Prix de la Photographies Paris. She lately received grant from national newspaper to spend time in LA having mentoring sessions.
FEATURED IN
Art Slant "Artist on Radar",
Digital Photography, "Masters of photography" Portfolio
Cyfrografia, In the Country of the Crouching Tiger. Aneta Nowicka's photo exbhibition, Editor's Note
Virtual Poland ( wp.pl ) News on Culture
AWARDS
Winner of Biennale of Art in Buenos Aires
Honorable Mention IPA - International Photography Awards
Honorable Mention - Paris Photo Prize
Art Slant Showcase Winner
CORPORATE
POLISH NATIONAL TV
COMMERCIAL CHANNELS

SVT SWEDISH TV

PRIVATE STUDIOS
BILFINGER BERGER (PORR)
National Gallery ZACHETA